Spring has sprung at Bill's Restaurant and Bar
Bill's Spring Menu is now available at The Atrium! Take a read through their new menu delights below…
This season brings with it wild garlic, carrots, rhubarb, asparagus, purple sprouting broccoli and the list of lovely fresh vegetables goes on… Our team of chefs have really flexed their creative muscles, to come up with a fantastic new menu. To start, enjoy our Pea and Wild Garlic Hummus topped with courgette, radish and mixed seeds served on toasted sourdough or how about our new Truffalos that are vegan truffled buffalo 'wings' with a vegan cheese dip!
At lunch you can still enjoy one of our popular lunch plates, such as Eggs Royale with Fries, or Smashed Avocado, Feta and Poached Eggs. However, this menu sees a brand-new recipe for our famous Fish Finger Sandwich, how about classic cod goujons, baby gem lettuce, and tartare sauce on toasted sourdough and served with fries – we know this one will be hard to say no to!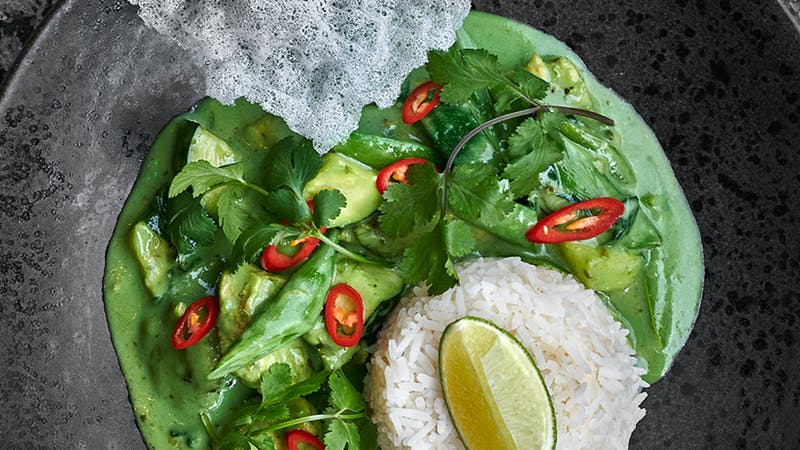 Supergreen Chicken Curry
In the evening, from 5pm, you will be dining from our dinner menu and will be able to devour our new Supergreen Chicken Curry, packed with sugar snap peas, courgette and spinach, and of course a kick of chilli! Or try our new Beetroot Wellington, we have given our popular vegan Wellington a new twist with butternut squash and beetroot inside the wellington, served with carrot puree and seasonal greens. If you fancy something meatier our Slow-Cooked Beef Rib in Cabernet Sauvignon wine and chive mash.
Finish your meal with our Rhubarb, Rose and Pistachio Eton Mess or if you are vegan and looking for something delicious then we have a dessert for you – our Salted Caramel and Chocolate Tart, served with coconut ice cream.
Finally, if you needed any more reasons to book your table with us, then let us share with you our new drinks… starting with the Pineapple Express, made with rum, Campari, pineapple and clove infusion, habanero and vegan foam! Or sticking with what is in season our classic vodka Collins but with Rhubarb and Rose. If you are looking for non-alcoholic, we are proud to bring you a range of CBD oil infused drinks including two lattes and two sparkling drinks.