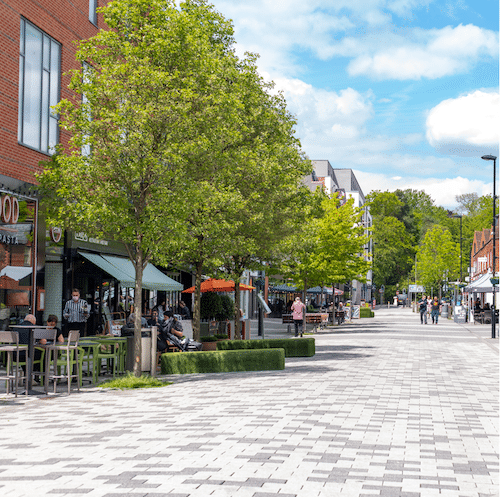 The Atrium is proud to support a wide range of environmental, social and corporate initiatives within the Camberley community.
We work with local stakeholders and charity partners to support town-wide initiatives, partnering with Surrey Heath Borough Council, Collectively Camberley BID, The Square Shopping Centre and Camberley Theatre regularly to give back to the community.
OLIO
The Atrium is proud to partner with OLIO.
Known for its work in combating food waste and connecting neighbors and businesses alike to share rather than throw away surplus food, OLIO has quickly become an integral part of our environmentally-conscious approach.
Login Lounge and Roti Corner are currently participating in the programme, which has now resulted in over 500kg of extra usable groceries given back to people who need them most.
Here's some data on how much extra edible goods have been redistributed throughout Camberley so far….
231 Local households fed
1,260 Equivalent meals shared
568kg of edible food donated
7,760 car miles taken off the road
105 equivalent trees planted
2282kg CO2 emissions avoided
378k Litres of water saved
To discover more on OLIO and sign up to the app yourself, click here.
Plant a Tree for the Jubilee 2022
During the Queens Green Canopy Initiative, The Atrium hosted 'The Atrium Garden's' and encouraged customers to pledge to take one small action to support the environment. For every pledge made, The Atrium donated £1 to the initiative which supported the plantation of 50 trees. Huge thanks to the local Camberley community for submitting their pledge to the environment and helping to 'Plant a Tree for the Jubilee'. For more information on the initiative visit https://queensgreencanopy.org/
Diversity & Inclusion
The Atrium is proud to be an equal opportunities employer and are fully committed to providing equality in the workplace and ensure all opportunities for, and during employment, will be afforded to individuals fairly and irrespective of age, disability, gender, gender reassignment, marital or civil partnership status, pregnancy or maternity, race including colour, ethnic or national origins and nationality, religion or belief or sexual orientation ("the protected characteristics"). The Atrium want their organisation to reflect the diversity of the community and welcome applications from people of all backgrounds.
Refill Me Initiative
As part of The Atrium's ongoing sustainability efforts and in a bid to cut single-use plastic consumption, guests can now fill up their water bottle for free at any of our retailer displaying a Refill Me sticker in its window, with zero obligation to make a purchase from the retailer.
The Atrium brands signed up to the "Refill Me" initiative include Starbucks, Pizza Express, Nando's, plus others.
We are extremely appreciative to our visitors and retailers for their continued support and thank you all for working with us to protect the environment.
Electric Car Charging Points
The Atrium is excited to partner with RAW Charging to add 6 electric vehicle fast chargers on level 2.
Our responsibility goes beyond serving our communities' shopping and leisure needs to creating ways in which we can reduce our impact on the environment in our own community.
The installation of electric vehicle charging points is just another way in which we are working to reduce our impact on the environment.
As EV adoption continues to grow, this hub will be a huge benefit for EV drivers seeking to top-up while enjoying the amazing amenities at The Atrium.